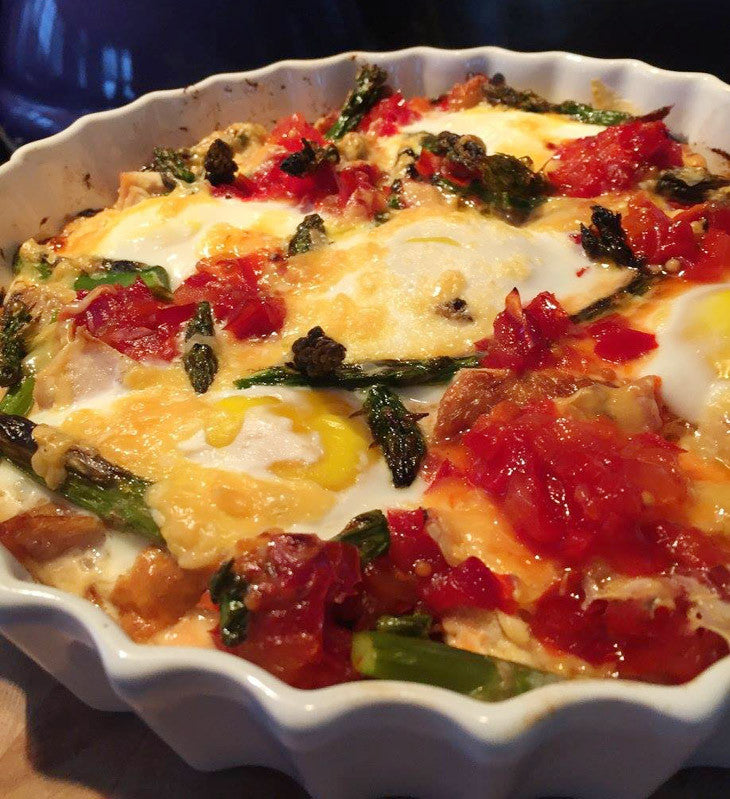 Mmmm...Leftover Turkey Breakfast Hash!
Looking for a new way to whip up something delicious with those holiday leftovers? Look no futher, Fourth Creek Foods created a tasty Breakfast Hash with those Turkey leftovers!
STEP 1
Potato Pancake Crust
Use 1 cup leftover mashed potatoes mixed with 1 beaten egg & 2 TBP flour. Place 400 degree oven for 10 minutes.
STEP 2
Add 3/4 cup leftover turkey, roughly chopped, and leftover green veggies (we used Asparagus).
STEP 3
This is our favorite part, add 6-8 tablespoons of Fourth Creek Foods Sweet Red Pepper Relish!

STEP 4
Drop in 5 eggs! That's right, put an egg on it.

STEP 5
Sprinkle grated cheese (we used shaved Gouda!)

STEP 6
Place back into the 400 degree oven for 10 minutes or until the egg whites set.

STEP 7
Enjoy! This Turkey Breakfast Hash was delicious and we think you'll agree. So next time you have a bunch of leftover Turkey from your holiday dinner, skip the dry Turkey sandwiches and hit up these tasty hash with Sweet Red Pepper Relish!